What does ORP mean, and why do I need an ORP Sensor?
To start, ORP stands for Oxidation Reduction Potential, also known as redox potential. Simply put it is measuring the ability of a mixture to either oxidize or reduce. This can help you monitor if your chemical processes and treatments are working or not, regardless of the chemicals involved.
How does it work?
An ORP sensor is really just a variation of a pH probe. It uses a neutral solution as a baseline and measures the difference of potential (voltage) in the solution it is testing. The sensor sends a reading in millivolts (mV) that can be interpreted by a systems controller.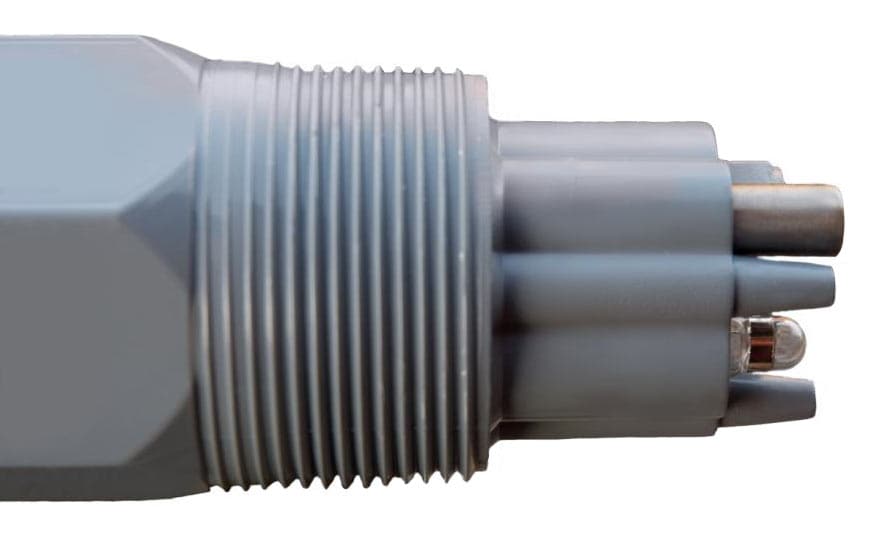 A close up view of an ORP sensor. It is based off a pH sensor, with the addition of a platinum or gold band to initiate the redox reaction.
It's all relative
The ORP sensors should be calibrated to maintain accurate readings. However, the value is relative to the solution it is in. It doesn't matter what the ORP sensor is testing, it simply measures the redox potential of everything in the water. It doesn't care whether it's ozone, chlorine, sodium metabisulfite, dissolved oxygen, or gas.
Comparing ORP to pH sensors
The ORP sensor is a variation of a pH probe
The ORP sensor needs less calibration
Both sensors need replacing, they have about the same lifespan
ORP readings don't need temperature compensation like a pH sensor. (However for consistency in logging reports, most users will compare ORP measurements at the same temperature)
ORP sensors can take time (15 minutes) to adjust and get an accurate reading of a solution
Where to use an ORP Sensor
Whether it is breaking down the organic matter, turning nitrates into nitrogen or any of the many other chemical reactions that occur in a water or wastewater treatment facility, an ORP sensor will work. It is a bottom line instrument that can show if a process is working or not. One great use is to determine the disinfection potential of a water source.
Some Common Applications
Use an ORP Sensor to help monitor and control processes such as:
Prechlorination and dechlorination in water/wastewater treatment
Fruit and vegetable washing
Ozone treatment process control
Pulp bleaching
Chlorine addition in commercial swimming pools & spas
Cyanide destruction and chromate reduction in metal finishing
Bleach production
Poultry processing
For more information
ORP Instrumentation at Promag Enviro
Contact Promag Enviro and we can help you select the right ORP sensor and control equipment for your process.